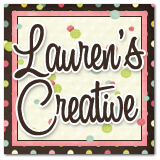 I have been wanting to do this for awhile and Erin at
Designer Blogs
came up with this beautiful design for me. I LOVE it!!! I hope all of you will love it as much as I do. If you have been wanting a blog makeover, check them out. Erin was wonderful to work with and they have tons of options!
All of my projects (yes, all of them) are organized into categories. If you would like to see a scrapbook layout using
Create a Critter,
no problem - check out my
Create a Critter
layouts under the "Scrapbooking" tab. If you just bought the
"The Charmed Life"
stamp set from
Scrappy Moms
, I have a whole section under the "Cards" tab dedicated to my
Scrappy Moms
projects.
I also got a brand new blog button...isn't it cute? I know that you were probably partial to my old blog button that I created in "Paint," (LOL) but this new one is super spiffy!
Thanks so much for stopping by and if you have a minute, take a look around!