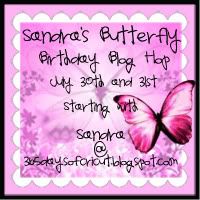 Happy Saturday! I hope that you are hopping along with us today for Sandra's Butterfly Birthday! If you arrived here from
Jess's blog, My Scrap Diary,
you are in the right spot. If not, make sure to head back to
Sandra's blog, 365 Days of Cricut
.
I am so excited to participate in today's hop. Happy Birthday Sandra! I hope you have a wonderful day! I have a lot of pictures today...so sorry in advance.
This post might be one giant excuse to bake a chocolate cake and buy myself some sweet spray roses...oh well. The things I do for a blog post... :) I put together a few ideas for a vintage butterfly themed party. I was thinking about a little girl's birthday party, but it would also be sweet for a bridal or baby shower.
I decided on a simple tri-fold card for the invitation. I wanted something that was simple enough to duplicate, but still special enough to set the tone for the party.
I printed the invitation wording onto white cardstock, and then added a mat of the coordinating patterned paper. Of course, I also added another butterfly to the inside of the invitation. It's hard to tell in the picture, but the little butterfly is also glittered.
I also decided that the birthday girl might need a special crown for the day. If this was for an actual party, I would make crowns for all of the attendees, but the birthday girl's would be the most elaborate.
I also made some ribbon wands that not only serve as a favor, but also become part of the party decor. These were so simple...I am definitely going to file this away for the future. All I did was tie a few satin ribbons to a wooden dowel, but before I tightened the knot completely - I added a bit of hot glue to the dowel. I found the butterflies in the floral section of my craft store and hot glued them to the top. So much easier than the fairy wands that I've made in the past, and they are still really cute.
I also made a sweet little favor box to fill with little candies or maybe a little bottle of bubbles.
Cake -

7 Minute Frosting (I couldn't find the right recipe online, so this is mine.)

4 egg whites
1/2 tsp. cream of tartar
dash salt
1 cup sugar
1/4 cup water
1 tsp. vanilla
1/4 tsp. almond extract (optional)
In the bowl of an electric mixer, beat egg whites, along with cream of tartar and salt until they reach stiff peaks. In a small saucepan, combine water and sugar. Bring sugar and water to a boil and let it continue boiling until it reaches 238 degrees. (Try not to stir AT ALL.) With the electric mixer on high, pour the sugar mixture in a small stream over the egg whites. Add your extracts.

Font - "Coffee Milk Crazy" (I think I found it on freefonts.com...I'm sure you can google it.)

Wooden Skewers (for cake banner)

Tabbed Banner (Silhouette Online Store)

Nested Butterflies (Silhouette Online Store)

Adjustable Crown (Silhouette Online Store)

Tall Favor Box (Silhouette Online Store)

Patterned Paper (K & Company - Sweet Nectar)

Cuttlebug A2 Victoria Embossing Folder

Martha Stewart Glitter - Crystal Fine

Tim Holtz Distress Ink - Walnut Stain

Wooden Dowels - Michael's (Pre-cut, by the popsicle sticks)

Assorted Satin Ribbon

Butterflies (Set of 3) - Michael's (in floral section)

Sakura Gelly Roll Pen - White
Thanks so much for stopping by! I hope you have a fun weekend!