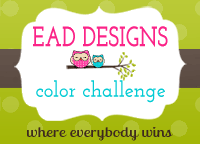 Another fun EAD Designs color challenge starts TODAY! Have you played along with us yet? If not - you should! Just for playing along you will get a 25% off coupon and one lucky winner will receive a $20 gift card to EAD. Starting this month the winner will also be given the opportunity to join the EAD Design team next month as a guest designer for our November Color Challenge! (How fun is that?)
This month's EAD color challenge is so perfect for fall! I made a pretty simple card using a fun set of "frames" from Lori Whitlock's Silhouette portfolio of shapes. I actually just welded two of the rectangles together to create a card and then attached that to the pretty tag shape.
I almost added the little turkey leg and the piece of pie to my cornucopia just to see if anyone would notice, but they wouldn't fit. ;) Here's a peek at some stickers that coordinate with this month's color palette.
These stickers are adorable and I already have plans for some of the other sayings in the set.
I hope you will give this color challenge a try! You can link up your project
HERE
on the
EAD Designs Blog
!
Hope you have a great day!