Happy Monday! I hope you had a good weekend. I did a little reorganizing in my craft room. I'm not sure it looks that much better, but I did find a pair of scissors that I've been looking for since the beginning of December. I hope you are hopping along with us this morning! If you arrived here from
Joanna's blog, Scrap-Making
, then you are in the right spot. If not, then make sure to hop back to the
EAD Designs blog
. Make sure to leave a comment there and at each stop along the way to be entered in this week's giveaway!
I have an embarrassingly easy, but still very fun project to share with you today! Valentine's Day is so close to my daughter's birthday that normally I don't bother decorating very much. This year we aren't having her party at our house, so I decided that we should have a few decorations around the house.
I've had a set of Valentine's placements and napkins for a couple of years, but nothing else to go with them. (I found mine at Home Goods, and they have some very similar sets if you'd like some.) I decided to embellish some little mugs with the adorable
Heart Rub-Ons from EAD Designs
.
I think they turned out really cute! I will be sharing a few more Valentine's Day decorations...so check back! You can order the
Heart Rub-ons
in a rainbow of colors - I chose cherry.
Don't forget!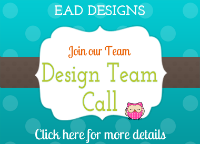 There's still time to submit your application! Click
HERE
for all of the details!
The next stop on today's hop is