Can you believe that it's already time for July's EAD Designs Color Challenge? Me either!
I colored another adorable rub-on from the EAD Designs
Zoo Rub-Ons
set. It's so easy and you always get a perfectly crisp and beautiful image!
Make sure to check out the design team inspiration over on the EAD Designs blog!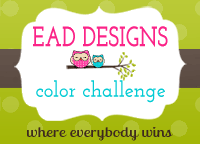 This summer has been so weird for me...on one hand it is flying by, but on the other it is CRAWLING! Sorry that the blog has been so slow...I have a lot on my plate right now, so the blog has gone on the back burner a bit. I'll be able to share more soon, but for now...just try and be patient with me. :)